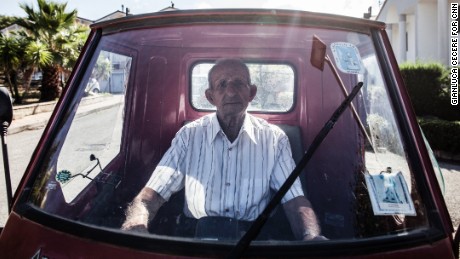 Acciaroli, Italy (CNN)"Eat badly and work hard," 94-year-old Giuseppe told me when I asked him the secret to a long life.
Giuseppe was taking me to his garden, which he tends to every day, growing tomatoes, peppers, lemons, oranges and lotus fruit.
We had come to his hometown of
Acciaroli
, south of Naples, for a report on the amazing longevity of its inhabitants, one in ten of whom, according to Mayor Stefano Pisani, is classed as a centenarian.
The reasons put forth for their amazing longevity are many — the so-called "Mediterranean diet," regular exercise, a mild climate …
"I remember everything," he says. "I remember it as if it was yesterday."
Vegetables: At least 2 servings at each meal, some raw
Fruit: 1 or 2 servings at each meal
Pasta, rice or bread: 1 or 2 servings at each meal
Olive oil with every meal
Dairy products: 2 servings a day
Nuts, seeds and olives: 1 or 2 servings a day
Fish and seafood: 2 servings a week
White meat: 2 servings a week
Potatoes: 3 servings a week
Red meat: Only in moderation (maximum of 2 servings a week)
Sweets and desserts: No more than 3 servings a week
Processed meats: Small quantities
1.5 to 2 liters of water a day
Fresh, local, seasonal produce
Regular physical activity and rest
Source: Mediterranean Diet Foundation
Antonio wasn't interested in talking about diet, though. The secret of his longevity, he insisted, was "this beautiful woman, the woman of my life."
Amina, 93, smiled shyly. Spry and good-humored, she still writes poetry, and recites it easily from memory. Her favorite is a poem she dedicated to Antonio.
"By the sea, the waves put my soul at rest
"I saw a little boat approach, a fisherman laying nets
"When he got closer, I looked at him and he smiled at me
"He invited me on board for a ride, it was a pleasure trip
"I saw seagulls flying around, fighting with the other fishermen
"I was taken by the beauty of the sea, and I became the bride of the fisherman."
As she spoke the final line, she reached out and caressed Antonio's chin.
Love and affection — plus all that other healthy stuff, perhaps — are the real secret ingredients of their longevity.
Read more: http://www.cnn.com/2016/09/21/health/how-to-live-to-100-acciaroli-centenarians/index.html